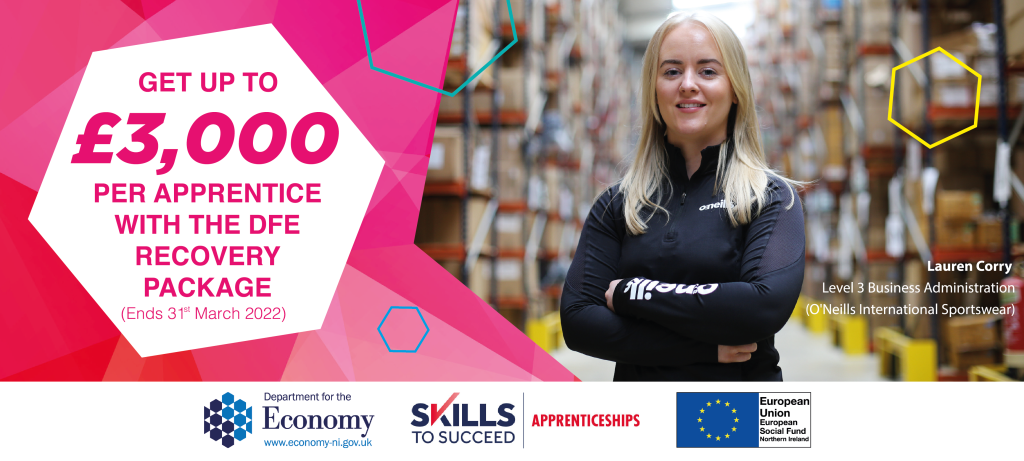 Apprenticeships NI can give your employees the training and qualifications they need to get ahead and meet your business needs. The qualifications are set out in a framework and are available at Levels 2 and 3. They have been devised by industry bodies together with the Sector Skills Council and are therefore tailored to ensure they meet the needs of your industry.
There is an incentive payment available of £500 per candidate for employers whose employees successfully complete the Apprenticeships programme.
Apprenticeships is open to both existing and new employees working within a Northern Ireland based company.
These are the areas that 21 Training can offer quality training to your business.
• HAIR & BEAUTY (Including Barbering)
• CONSTRUCTION
• TEAM LEADING
• SPORT & LEISURE
• RETAIL SKILLS & KNOWLEDGE
• CUSTOMER SERVICE
• CHILDCARE
• HEALTH & SOCIAL CARE
• WAREHOUSING & STORAGE
• HOSPITALITY
• COMPUTING & ICT
• FOOD INDUSTRY SKILLS
• MEAT AND POULTRY
• PROFESSIONAL COOKERY
• FOOD & DRINK
• BUSINESS ADMINISTRATION
• MANAGEMENT
• HEALTH & SOCIAL CARE
There are many benefits for you and your employer when you take part in an apprenticeship:
• You earn while you learn
• You work alongside experienced staff
• You receive off-the-job training specific to your apprenticeship
• You gain qualifications.
Apprenticeships IN Guidelines
Your apprentice needs to:
be the minimum school leaving age in Northern Ireland.
be employed or be about to take up paid employment as an apprentice with a Northern Ireland based company.
be working a minimum of 21 hours per week (which includes time for 'off-the-job' training).
Many Northern Ireland companies have successfully trained their apprentices through 21 Training and the Apprenticeships programme and their businesses have reaped the benefits and seen an improvement in staff performance and general productivity.
Have you heard?
The Department for the Economy (DfE) has developed an Apprenticeship Recovery Package for Northern Ireland that will channel financial support to local businesses to help the apprenticeship system respond to the impact of the COVID-19 crisis.
Read more
Get in touch to find out more
This project is part funded through the Northern Ireland European Social Fund Programme 2014 – 2020 and the Department for the Economy.